Regular price
Sale price
€9,50
Unit price
per
Sale
Sold out

Adenia fruticosa
 is a remarkable scrambling succulent shrub or shrubby tree, 1-2 m tall, occasionally to 6 m with a distinct cluster of grotesque, irregularly club-shaped, softly woody stems and unarmed branches. The swollen stems are flask-shaped and smooth, up to 1 m in height and ending into a few thick whip-like branches. The bluish-green leaves are simple or digitately 3- or 5-foliolate. The flower is bell-shaped and the corona has fine dense hairs. The plants are dioecious (sexes on separate plants).
There is no pre-treatment of the seeds required.

The seeds are sown in mineral-based cat litter (no clumping litter) or perlite (germ-free) in plastic-pots. Please sow the seeds on the mineral soil. Bigger seeds need to be covered with the mineral soil, small seeds should remain on the surface.

Then put the plastic pot in a zip lock bag - with a pot size of 6 cm , a zip lock bag of size 12 x 17 cm is recommended . Fill in the zip lock bag as much tap water with a few drops of universal fertilizer, so that after the absorption of the substrate a few mm of water remain on the bottom.

Location: on the windowsill or in a small greenhouse in partial shade, daytime temperatures at about 73-83 F, somewhat lower at night at 68-72 F.
price is for 2 seeds
View full details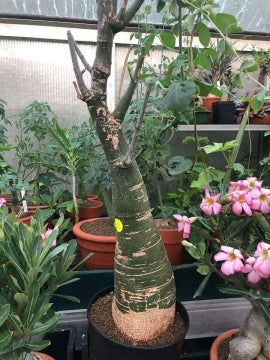 Collapsible content
Fair Use Disclaimer

Our website may contain content not authorized for use by its owner but use of this material falls under the guidelines of fair use (They are for educational purposes only to show the plant only).

If you want to find our more or own any images displayed on our website and disagree with our assessment it constitutes 'fair use' please click here.