Regular price
Sale price
€6,19
Unit price
per
Sale
Sold out
Orbea variegata is a species of flowering plant in the family Apocynaceae, known as the star flower. It is native to the coastal belt of the Western Cape, South Africa, growing actively during the winter rainfall season. It is an invasive species in southern Australia.
It is a soft stemmed succulent erect or prostrate, branched above ground. In age forms big clumps. The carrion-like smell of the flowers attracts flies and other insects for pollination.
Stems: Sprawling and decumbent over to 25 cm long, toothed, grey green mottled purple in full sun.

Flowers:* The typical flower is 5-7 cm across with 5 blunt lobes, starfish-like, attractively patterned or dusted with chocolate/purple, brown/bronze blotches on a greenish-yellow background, mostly in 6-7 rows or irregularly scattered, Corolla rugose, with a yellow central disc (annulus) speckled with dark spots.
Blooming season: Flowers coming in late summer or fall, have a light carrion smell. It is quite free flowering if in direct sunlight.
Fruits: The plant can readily set seed, after the fecundation the carpels develop long cylindrical fruits up to 12 cm long, these need to be contained when they ripen, because as soon as the fruit opens it liberate a cloud of flying seed provided whit a white feathery cotton fluff. The seeds can float from the pods and drift around the greenhouse on the slightest breez
View full details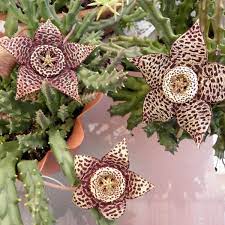 Collapsible content
Fair Use Disclaimer

Our website may contain content not authorized for use by its owner but use of this material falls under the guidelines of fair use (They are for educational purposes only to show the plant only).

If you want to find our more or own any images displayed on our website and disagree with our assessment it constitutes 'fair use' please click here.