Regular price
Sale price
€4,50
Unit price
per
Sale
Sold out
Capparis tomentosa is a decorative garden plant that is used for hedging in many rural communities in South Africa. Its most popular common name, wag-'n-bietjie (wait a minute), describes the use of the plant as a security barrier because of its hooked spines.
Capparis tomentosa is a spiny, much-branched shrub or small tree, with an upright trunk and climbing, pubescent branches. Leaves are elliptic, elliptic-oblong or ovate, 26–70 mm long and 13–80 mm wide, with tips usually round with a sharp point, light green to greyish green, soft and velvety. Hooked and sharp spines are found in the axils of the leaves.
The flowers develop into red, globose, pendulous fruits, that grow up to 50 mm in diameter. Seeds are dark brown, ovoid to kidney shaped and 1–15 mm long. The seeds are surrounded by a juicy, white to pinkish pulp. The plants flower in spring and early summer, from August to November. Flowers open in the morning and start to fade in the middle of the day. Fruits are produced in summer, from December to March.
Capparis tomentosa is an important medicinal plant in many indigenous communities throughout South Africa. The roots play a vital role in sexual and reproductive health. They are used to cure HIV opportunistic infections, such as tuberculosis, Herpis zoster and Herpis simplex and chronic diarrhoea. The roots are also used as an infusion to assist with sterility, threatened abortion, gonorrhoea, syphilis and also to stop bleeding after childbirth.
Other plant parts also play an important role in traditional medicine. Decoctions of the roots, leaves and bark can be used to treat coughs, fever, and asthma. Treatment should be taken in small quantities, as large doses can cause toxicity to the patient. Powdered roots can also be applied to wounds, abscesses and snakebites. The smoke inhaled from burning powdered bark, can be used for bronchitis, chest pains and headaches.
The fruits are eaten by people. The plant is often planted as a barrier hedge. This plant is a good one bee-keepers to plant as the flowers attract honey bees.
Sow the seeds 30 mm deep into a potting medium, consisting of 1 part potting mix and 3 parts perlite. Cover the tray and place in a dry area. Water the medium daily and wait for the plants to germinate. 
Price is for 4 seeds
View full details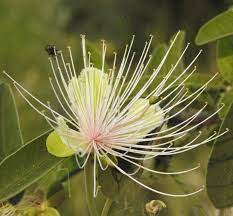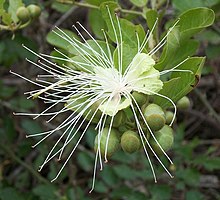 Collapsible content
Fair Use Disclaimer

Our website may contain content not authorized for use by its owner but use of this material falls under the guidelines of fair use (They are for educational purposes only to show the plant only).

If you want to find our more or own any images displayed on our website and disagree with our assessment it constitutes 'fair use' please click here.