Regular price
Sale price
€2,45
Unit price
per
Sale
Sold out
Schotia brachypetala, called weeping boer-bean is a handsome, medium to large tree with a wide-spreading, densely branched, rounded crown. Schotia brachypetala has a single trunk that sometimes branches low down. Trees can reach a height of 22 m, but most commonly grow 11 to 16 m with a spread of 10 to 15 m. The bark is rough and brown or grey brown. The leaves are compound, with 4 to 6 pairs of leaflets, each with an entire, wavy margin. The foliage is reddish to coppery when young, turning bright green and maturing to a glossy dark green. In warm frost-free areas this tree is evergreen, but in colder regions it is deciduous, losing its leaves for a short period in winter to spring. The flowers are rich deep red, and are produced in masses, in dense branched heads on the old wood during spring. The flowering time is somewhat irregular in that a tree in bloom may be a few metres away from one that has no sign of flowers.
The seeds are sown in mineral-based cat litter or perlite in plastic-pots. Please sow the seeds on the mineral soil. Bigger seeds need to be covered with the mineral soil, small seeds should remain on the surface.

Then put the plastic pot in a zip-lock bag - with a pot size of 6 cm , a zip-lock bag of size 12 x 17 cm is recommended . Fill in the zip-lock bag as much tap water with a few drops of universal fertilizer, so that after the absorption of the substrate a few mm of water remain on the bottom.

Location: on the windowsill or in a small greenhouse in partial shade, daytime temperatures at about 73-83 F, somewhat lower at night at 68-72 F. 
price is for 3 seeds.
View full details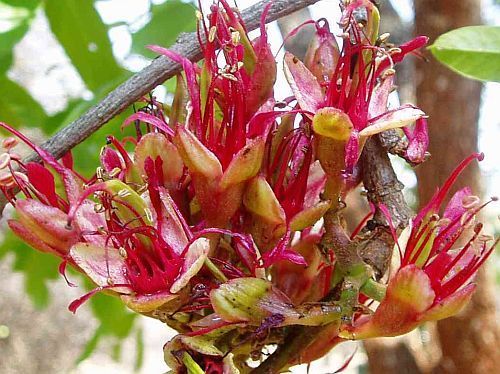 Collapsible content
Fair Use Disclaimer

Our website may contain content not authorized for use by its owner but use of this material falls under the guidelines of fair use (They are for educational purposes only to show the plant only).

If you want to find our more or own any images displayed on our website and disagree with our assessment it constitutes 'fair use' please click here.