Regular price
Sale price
€3,40
Unit price
per
Sale
Sold out
Streptocarpus fanniniae is a perennial creeping herb that has a tangle of creeping rooted "stems" up to 150 mm long, and a single big handsome oblong leaf. The lamina (blade of the leaf) is up to 900 x 220 mm, with the margin crenate (scalloped), the base cuneate (wedge-shaped) and with the upper surface and the veins covered thinly with long soft hairs. One or occasionally two inflorescences are borne immediately below the lamina. Many of the flowers open together.The flowering stalk is up to 300 mm long. The corolla is honey-scented and hairy at the base of the floral tube. The flowers are zygomorphic (symmetrical about only one plane), deeply scented, with the colour varying from almost pure white to blue. The flowering shoots can grow up to 1 m tall. The flowering period is from November to April. The seeds that are produced at the end of the flowering season are minute, usually 0.8-1 mm long, and covered with net-like veins. Streptocarpus fanniniae is a quick-growing plant. It has the ability to spread and cover a big area quickly. 
Cover the seeds with a thin layer of peat (about 2 mm).
Then put the plastic pot in a zip-lock bag - with a pot size of 6 cm , a zip-lock bag of size 12 x 17 cm is recommended . Fill in the zip-lock bag as much tap water with a few drops of universal fertilizer, so that after the absorption of the substrate a few mm of water remain on the bottom. 
Location: on the windowsill or in a small greenhouse in partial shade, daytime temperatures at about 75-83 F, somewhat lower at night at 68-75 F. 
Prices is for 5 seeds
View full details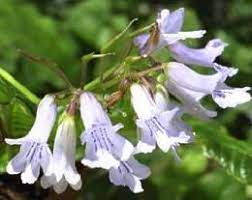 Collapsible content
Fair Use Disclaimer

Our website may contain content not authorized for use by its owner but use of this material falls under the guidelines of fair use (They are for educational purposes only to show the plant only).

If you want to find our more or own any images displayed on our website and disagree with our assessment it constitutes 'fair use' please click here.